YOU ARE HERE : Home / Profile
Company Profile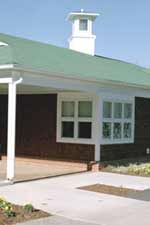 The partners of Hudson + Associates Architects have been in private practice for over 40 years. The company is based on and dedicated to providing its clients and their communities with planning and buildings that are functional, within budget and a visual enhancement to the community. To do this, Hudson + Associates, Architects employs the latest computer technology for its design, specifications, cost control and production drafting. Combining these technological in­novations with creative problem solving distinguishes the firm and enhances the quality of its projects.
Over the years, Hudson + Associates Architects has come to specialize in municipal, federal and state clients. We have worked for virtually all of the school divisions and municipal government of South side Hampton Roads and the Peninsula. The firm has worked on 30 annual contracts for local federal agencies including the Navy, the Army Corp. of Engineers, NASA, and the U.S. Coast Guard. At the state level, we have worked for Virginia Housing Development Authority, as well as state and community colleges.
H+A currently has ongoing annual contracts with York County Schools, Chesapeake City Schools, the City of Newport News and the City of Hampton. The current economic situation has limited the funding for the normal maintenance and repair projects that are common on these contracts.
The firm has tailored its practice to respond to the needs and requirements of our clients. For example, the need for adherence to budgets set by boards or agencies; the ability to fashion compromises and alternatives required by political pressures; compliance with a variety of regulatory requirements and the meeting of mile­stones and deadlines.
Another characteristic of Hudson + Associates, Architects is the partners' involvement in projects. It is strongly felt that an architect's experience is at the heart of successful projects. H+A's partners are directly involved in programming, budgeting, designing, drawing, bidding and building your project.
H+A not only relies on the partners during the design phases but this participation continues during the construction administration phase as well. H+A prides itself on thorough, well coordinated construction documents as well as their ongoing presence in the field during construction so they can defend and fend off frivolous claims by contractors.
Principals
C. Craig Hudson, AIA
This is a blurb about Craig, and should include contact info and a picture, perhaps.
Keith Mushenski, AAIA
Mr. Mushenski supervises production operations for the firm and maintains Hudson + Associates, Architects extensive computer operations. His computer expertise and knowledge of the project process enables him to schedule and perform to the milestones stipulated by clients. His performance on projects has proven the firm's ability to consistently design and deliver on time.