Woodlands Golf Course, Hampton, VA
Client:
City of Hampton,VA,
Contact:
Martha Miller, Golf Course Manager, 757-727-1195,
Construction costs:
$653,030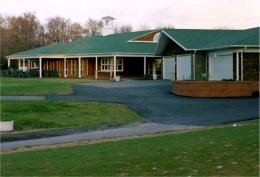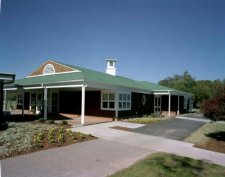 The renovations and additions at the Woodlands Golf Course were inspired when the resident pro retired and the new manager realized the potential to expand services and revenue for the course. Since the facility is land-locked, adding greens or a driving range was impossible. Simultaneously, the course sells 70,000 rounds a year thereby providing a built in clientele for ancillary services. To capitalize on this potential the building was strategically expanded to enlarge the dining room, pro-shop and double the size of the cart garage. The public toilets were remodeled to conform with ADA requirements and the kitchen's renovation replaced all of the equipment, installed a new commercial hood, a walk-in box and a walk-up service window by the new covered outdoor dining. A meeting room was added to attract business conferences and cater dining and party activities both during the day and in the evening. A generous "golfer's porch" was added on the two sides of the clubhouse adjacent to the course to enhance the constant indoor/outdoor movement between the pro-shop and the course.
The facilities have been a resounding success. Revenues are up and course regulars are found spending more time in the clubhouse.